Bulletin 106 – People's Committee in Defence of Lula and Democracy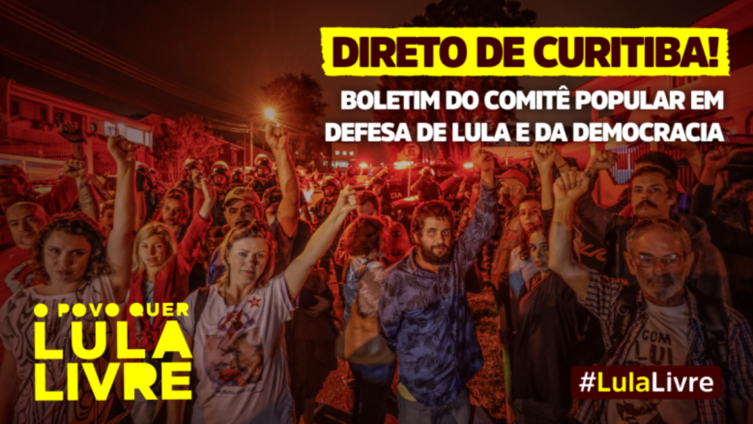 Arte Agência PT
Curitiba, Paraná, Brazil – 6/4/2018 – 8:46 PM

1. Dominican order priest and writer Frei Betto visited ex-President Lula today, bringing helpful and motivational words to his friend. Before visiting Lula the priest got to know the Vigil and spoke with the crowd there. Frei Betto was one of the religious leaders who resisted against the military dictatorship, for which he was arrested and tortured at the time.
2. Representatives of the progressive youth from Chile participated in the "good night" yell to Lula this evening and defended his freedom, joining the ranks of the international movement supporting the ex-President. The youth delegation arrived in Curitiba on Friday to participate in the PT Youth Congress.
3. Ex-Minister Aloizio Mercodante participated in a debate on democracy today in the Book Fair in Rosario, Argentina. He denounced the coup against President Dilma Rousseff and the political persecution against Luiz Inacio Lula da Silva, who is currently being held as a political prisoner. Mercodante defended an international mobilization to support the #LulaLivre movement.
4. Rodrigo Tacla Duran, ex-lawyer from Odebrecht Engineering Company, will testify to the Congressional Human Rights and Minorities Commission this Tuesday, June 5th, at 10 AM, by video conference. He was summoned 4 times as defense witness for ex-President Lula, but his testimony was blocked by Judge Sergio Moro. Lula's defense team solicited Duran to testify about the Lava Jato investigation's falsifying Odebrecht documents, and other irregularities. The testimony will be transmitted live on TVT television and on the PT's social networks.
Bulletin 106 – People's Committee in Defense of Lula and Democracy
Curitiba, Paraná, Brazil – 6/4/2018 – 8:46 PM
---