Bulletin 111 – People's Committee in Defense of Lula and Democracy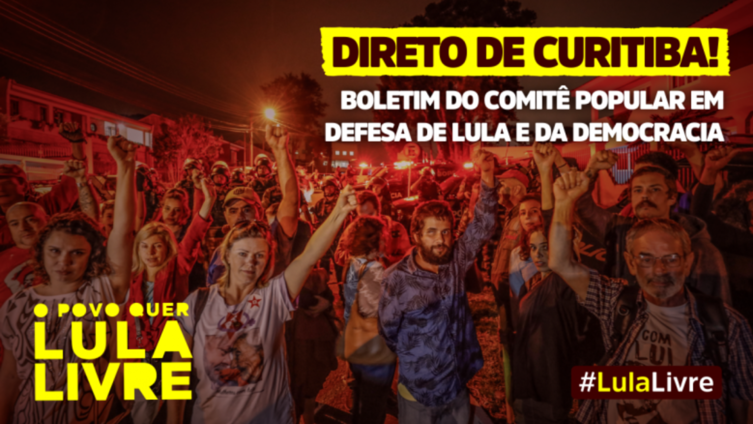 Arte Agência PT
1. The 17th Agroecology Journey, held in Curitiba, ended today after four days of various cultural activities on Santos Andrade Praça, in the city center. There was a market for organic foods and other products related to agrarian reform activities, as well as concerts by diverse Brazilian musical acts. Local groups like Viola Quebrada and Malumba animated the crowds of hundreds who came to participate in the event. The event ended today with a show by the singer Otto, who wore a #LulaLivre t-shirt, and Paraiso de Tuití Samba School.

2. At the end of the 17th Agroecology Journey, a letter to the public was released that emphasizes the importance of the fight for the defense of democracy, freedom for ex-President Lula and unity for the Brazilian people in defense of sovereignty. The letter also comments on the challenges for society to build a new model of life in relation to the commons, with criticism of the big corporations which are transforming all biodiversity into merchandise and are violating human rights. Read the letter here: http://www.mst.org.br/2018/06/09/agroecologia-e-projeto-politico-e-pratica-e-movimento-e-ciencia-e-educacao-populares-afirma-carta-da-17a-jornada.html
3. The women at the #LulaLivre Democratic Vigil met to discuss women's literature and poetry with Maria Lucia Sliveira, a gender policy specialist and Doctor in Sociology from PUC/SP. The round of talks, called, "Where are the Women – Resistance and Poetry" featured readings of texts by women who speak of women's issues and social problems such as incongruity in the world of work.
Bulletin 111 – People's Committee in Defense of Lula and Democracy
Curitiba, Paraná, Brazil – 6/9/2018 – 10 PM