Bulletin 115 – People's Committee in Defense of Lula and Democracy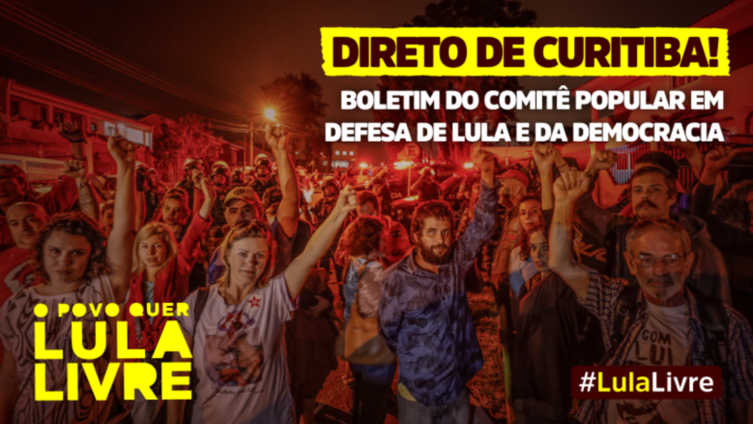 Arte Agência PT
1. The "Good Morning" yell to Lula today included the participation of an international delegation of education workers who are in Curitiba to act in defense of the ex-President. The President of the National Confederation of Education Workers (CNTE), Heleno Araujo; the General Secretary of the Education Internacional (IE), David Edwards; the International Relations Secretary of the Argentine Confederation of Education Workers (CTERA), Eduardo Pereyra; and the Regional Coordinator of IE from Costa Rica, Combertty Rodriguez participated in the morning activities. Read more here: http://www.pt.org.br/trabalhadores-da-educacao-visitam-a-vigilia-lula-livre/
2. The international delegation of education workers participated in an open conversation at the #LulaLivre Democratic Vigil on the theme of "education and democratic freedoms", in which they highlighted the attack on education as a right for all due to imposition of the market based vision in diverse countries. They also spoke of the public policies in the Lula and Dilma governments that increased access to learning in a democratic, participatory manner with with care taken to compensate historically excluded populations.
3. During the International Act in Solidarity with Lula, David Edwards, General Secretary of the IE, an organization headquartered in Brussels, Belgium, said that Lula is a world symbol respected for political action, for benefits and for all of the social advances promoted on the world level, especially in Latin America. "For this we should make all efforts possible for Lula to be freed. This is directly tied to defense of human rights. The world knows that Lula is a political prisoner and that the Justice system was unable to present any proof against him, " he said.
4. The writer, sociologist and militant feminist Moema Viezzer launched her book, "O Maior Genocidio da Historia da Humanidade- mais de 70 milhões de vitimas entre os povos originários" (The Largest Genocide in Human History – over 70 million victims among the original peoples) today at the Vigil and facilitated a conversation about environmental rights.
5. The Senate's Constitutional Commission approved a requirement this Wednesday, June 13th, for creation of a super-partisan parliamentary commission to inspect the prison conditions of ex-President Lula in the Federal Police headquarters. The commission will be formed during the next few days and will set the nearest date possible for a visit with law enforcement authorities.
6. The 37th United Auto Workers (UAW) Congress is underway in Detroit (USA), with thirty foreign delegations and solidarity acts and demonstrations underway for freedom for Lula. Posters with #LulaLivre and #FreeLula and the signatures of the leaders who are participating in the Congress will be delivered to ex-President Lula in Curitiba. The Congress ends tomorrow on June 14th. The union members discussed, among other things, global attacks against the working class, blows against democracy and the growth of the right and extreme right around the world.
Bulletin 115 – People's Committee in Defense of Lula and Democracy
Curitiba, Paraná, Brazil – 6/13/2018 – 10:40 PM